We have gathered some Resources that we hope will help you as you go through your Lenten journey.
The Ultimate Lent Guide for Busy People
67 Resources for Your Best Lent Ever
.
Lent for Social Media and Smartphone Users 
6 Apps to Help You Have a Prayerful Lent
Every day we'll send you a 2-3 minute video inviting us to look at the question of who Jesus really is. These videos are designed to help spark a discussion on social media. You're invited to be part of #ShareJesus this Lent, and it's really simple to sign up. Go to www.redeemedonline.com to enter your name and email address.
Be part of the #ShareJesus project as we seek to bring Jesus to the forefront of the online conversation. This is a chance for us, as a Church, to remind the culture that Jesus Christ is the joy, the hope, and the peace that we're all looking for. 
5 Hardcore things to Give Up this Lent.
.
Sign up for Daily Lent Reflections from Fr. Barron
From Word on Fire Catholic Ministries: Anything that comes from Word on Fire is always rife with spiritual wisdom. Reflect daily on Christ's journey to Calvary from the comfort of your office chair or living room couch. Email reflections are available in both English and Spanish.
.
USCCB Conference of Catholic Bishops Lenten Resources
Feasts and Seasons of the Church – Lent & Eastertide
(Saints' Days, Recipes and Crafts)
Ignatian Workout for Lent an Online Retreat

Ignatian Spirituality Lenten Resources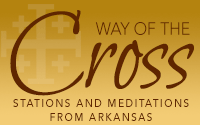 Lent Tips From Pope Francis