In an effort to provide our parishioners with the most up-to-date information regarding how coronavirus (COVID-19) is affecting our parish, we've assembled all of the latest news and information we have in one centralized location below. Please check this page frequently for additional updates.
Sunday – Live Streaming Mass (During COVID-19)
Watch Mass on April 5 'Palm Sunday' at 11 a.m. on Facebook
Note: Due to technical difficulties March 29 we were unable to livestream the Mass from Good Shepherd. You can view the 9AM Mass at St. Robert here
View Video Recording of Mass (tap on link below)
(St. Robert has a YouTube page check it out here)
Sunday, March 22 Mass video
Mass Readings & Prayers
Make an act of Spiritual Communion – when you can not receive the Eucharist.
Latest Updates and Information
Please keep 6 feet between you and others when waiting in line for Confession or coming to the church to pray. Stay safe.
Bishop Boyea calls for Day of Prayer & Fasting April 3 – read more…
There will be no Holy week or Easter public Masses
Palm Sunday, April 5 Livestream Mass 11 a.m.
Blessed Palms will be available in the church during Confession times (Tues. 5:30-6:30 pm, Sat. 3-4 pm) after Palm Sunday
Holy Thursday, April 9 Livestream Mass 7 p.m.
Good Friday, April 10 Livestream Service 3 p.m. with Confessions at 5 p.m.
Divine Mercy Novena Begins, April 10
Easter Vigil, April 11 Livestream Mass 9 p.m.
Easter Sunday, April 12 Livestream Mass 11 a.m.
If you have been confirmed to have COVID-19 and been on church property in the last 2 weeks please let us know.
The church will only be open for Confessions Tuesday's 5:30-6:30 pm and Saturday's 3-4 pm
*Note: St. Robert church will be open for Private prayer: Mon-Sat 7 AM – 9 PM, Sun 10 AM – 9 PM
**St. Robert Confession schedule: Wed 5:30-6:30 PM, Fri 5:30 -7 PM, Sat 9-10 AM, Sun 5-6 PM
Parish office will be closed effective 3/24 through April 13 – ( We will be monitoring our phones and phone messages. We encourage everyone to contact through our websites. We will be working remotely from home as best we can. As always, call the rectory in an emergency at 810-659-8553 if someone is dying or in critical condition.)
Adoration on April 3 has been cancelled (Remember that praying privately before the Blessed Sacrament as Jesus is reposed in the tabernacle is still Adoration, and still of tremendous value.)
Funerals will still take place through April 13, but with no more than 10 asymptomatic immediate family members.
Fr. Anthony: praying for the dead
Fr. Anthony: The good that can come from these trials
Video Update from Fr. Jon 3/26
Volunteer to Help
(COVID-19 crisis)
I Need Help
(COVID-19 crisis)
Please continue to support our parish
Response from the Bishop on COVID-19
Diocese of Lansing Coronavirus news and resources
EWTN – Eucharistic Adoration – Live! 9 AM – 6 PM daily (click on image)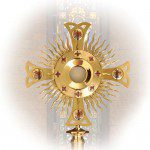 Online Perpetual Adoration live from church's around the world
Pope Francis' Prayer to Our Lady, Health of the Sick, to implore her protection during the Covid-19 coronavirus pandemic. See Prayer
Livestream Masses Available:
EWTN 8 a.m. & 12 p.m. Daily watch live
Diocese of Lansing Sunday Mass: 10 a.m. WSBF-TV Flint Channel 46.1
Make an act of Spiritual Communion
Where to Watch Mass in the Diocese of Lansing
Articles You might find helpful:
Keep Sunday's holy in a time without Mass
10 Things you should do until public Masses return
Things available in the myParish App
Under Prayer Icon
*New Order of Mass prayers
*New Coronavirus Novena Prayer
Mass Readings
Online Giving
Daily Mass
Bulletins
Homilies
Let's Seal the Doorposts
In this time of calamity, the Marian Fathers invite you to participate in a simple but incredibly powerful act of faith. To protect you and your family, we urge you to post an Image of the Divine Mercy on your front doors. Father Chris Alar, MIC, explains why:
Stuck at Home? Make an online Retreat