In an effort to provide our parishioners with the most up-to-date information regarding how coronavirus (COVID-19) is affecting our parish, we've assembled all of the latest news and information we have in one centralized location below. Please check this page frequently for additional updates.
Live Streaming Mass (During COVID-19)
(We will continue to Live stream our Sunday Mass for those who are home)
Watch Mass on Sunday at 11:15 a.m. on Facebook
(limited capacity public Mass 25% = 132 people)
Mass Readings & Prayers
Make an act of Spiritual Communion – when you can not receive the Eucharist.
Latest Updates and Information
Please keep 6 feet between you and others when waiting in line for Confession or coming to the church to pray. Stay safe.
Volunteer to Help
(COVID-19 crisis)
I Need Help
(COVID-19 crisis)
Please continue to
support our parish
You can also Mail your gift to:
PO Box 3274,
Montrose, MI 48457
Response from the Bishop on COVID-19
Diocese of Lansing Coronavirus news and resources
Resources for Practicing Your Faith at Home
EWTN – Eucharistic Adoration – Live! 9 AM – 6 PM daily (click on image)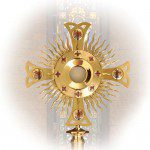 Online Perpetual Adoration live from church's around the world
Pope Francis' Prayer to Our Lady, Health of the Sick, to implore her protection during the Covid-19 coronavirus pandemic. See Prayer
Livestream Masses Available:
EWTN 8 a.m. & 12 p.m. Daily watch live
Diocese of Lansing Sunday Mass: 10 a.m. WSBF-TV Flint Channel 46.1
Make an act of Spiritual Communion