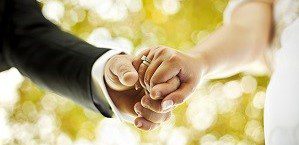 Marriage Preparation Program
Congratulations on deciding to get married!
Marriage is a lifelong and faithful union of a man and woman mutually committed to sharing their life and love together. To help make this a reality in your future married life we assist couples in their marriage preparation.
Good Shepherd follows Lansing Diocesan guidelines that require a minimum of nine months between the initial contact with the parish and the wedding date. During these months couples are asked to participate in the diocesan marriage preparation program, which consists of communication and Catholic Faith formation classes. They also meet with a FOCCUS/Sponsor couple where the instrument is administered and evaluated. This is also a time for the couples to begin the preparation for their wedding liturgy.
The goal of this preparation is to encourage full and active participation of all who gather to celebrate this marriage. The couple meets with the pastor and music director to plan the marriage liturgy.
You might also like to check out these online resources click here.