Welcome to our Pro-Life page where you will find helpful resources and links to use to help defend life in all it's precious stages.
40 DAYS FOR LIFE
Christians throughout Genesee County are invited to take part in the international 40 Days for Life effort from September 27 through November 5. Since 2007, 13,305 lives have been saved, 154 abortion workers have walked away from the abortion industry and 86 abortion facilities have completely shut down. In addition to 40 days of peaceful prayer and fasting for an end to abortion, please consider volunteering to pray outside of the Planned Parenthood at G-3371 Beecher Road, Flint, MI, during the 40 days. Spread the word to others about this important life-saving effort! To get more information, or to volunteer to help, please contact: Tina Phillpotts at 810-892-FLNT or info@prolifeflint.com. You may also visit: www.40daysforlife.com/flint and our Facebook Page, "40 Days for Life-Flint." All are welcome!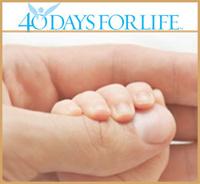 40 Days for Life – Local Campaign in Flint
Answer Center for Women, Flint
.
Safe Delivery allows parents to safely surrender their newborn child no more than 72 hours old to an employee who is inside and on duty at any hospital, fire department, police station, or by calling 911. This program is a safe, legal and anonymous alternative to abandonment or infanticide and releases the newborn for placement with an adoptive family. Safe Delivery Hotline: 866-733-7733. See more information on Michigan DHS website HERE
.
Catholic Charities – Adoption Services
.
Abortion Pill Reversal  
for more information or call 877-558-0333
.
Rachel's Vineyard – Healing the Pain of Abortion
.
National Hotlines ready to help women anywhere in the country are:
.
=================================================.
Over 30 years ago a court decision was rendered which legalized abortion throughout the entire nine months of pregnancy.  This decision, Roe v. Wade, is the reason over 1 million abortions have been committed in the U.S. each year
To help stop the anti-life push around the world, the late Archbishop Fulton J. Sheen encouraged the spiritual adoption of an unborn child.  This is done by praying that the one particular but unknown child's life be spared abortion and be allowed to continue to live.
To help accomplish this, it was recommended an individual say the following daily prayer for a period of nine months.
"Jesus, Mary and Joseph, I love you very much. I beg you to spare the life of [baby's name] the unborn baby that I have spiritually adopted who is in danger of abortion."
– Prayer of Archbishop Fulton J. Sheen
=========================================================
END OF LIFE CARE
Right to Life of Michigan – End of Life Care Decisions
MiCatholic.org – Guide for End of Life Decision (Durable Power of Attorney for Healthcare)
Catholic End of Life Care – Catholic guidance to end of life care decisions.