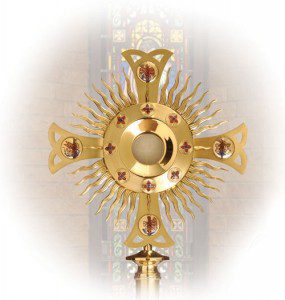 On Sunday, June 11th the Feast of Corpus Christi Good Shepherd will have a Eucharistic procession following the 11:15 a.m. Mass.
Come and be a part of the sacred,visible display of our faith and public proclamation that Jesus is present in the Holy Eucharist. Join our joyful procession of praise singing hymns and bearing witness to the world that Jesus is Risen, He is Risen Indeed!
We will have 2 altars on church property and 2 altars around the block
The servers will lead us followed by the priest with the Eucharist in the monstrance under a beautiful canopy followed by the people
We will have four altars set up where we will pause to adore, proclaim a Gospel passage, offer intercessions and have benediction
We will conclude by processing back into the church for a final benediction
There will be hotdogs for lunch after
All are Welcome!